Hi, BluFrenchibles Fans!
Thank you so much for your patience, We know that Covid has created a chaotic year and demand is at an all-time high (along with puppy scams). We've had a lot of interest in our upcoming breeding which we still expect to occur next month and we will keep you updated every step of the way. We are awaiting our dam to go into heat sometime in the next month which would project a litter to arrive around Feb-Mar. We will only accept deposits after a successful litter arrival. If you are subscribed to our newsletter, you will be notified a week in advance and given the first chance to place a deposit.
We have some more exciting news to pass along. First off, our (human) family has expanded with the birth of Capri, she was born in late October and is absolutely perfect. Our family is doing well, but she has slightly disrupted our time for communication and may continue to do so over the next month.
We introduced Lilac Lexi last month, who continues to grow and thrive. Once fully mature, we will learn of her exact heat cycle and expect a litter to occur late in 2021.

We have also just adopted an incredible new stud which will relieve Pluto in the summer of 2021.  We would like to introduce you to Astro! He is a lilac tan point platinum Frenchie that is coming to us from the West coast of Canada and he carries incredible DNA!  Astro is four-panel health cleared and can produce Platnium Lilacs, Lilacs, Blues, Chocolates, and tan points. We will be getting him soon and can't wait to show you more.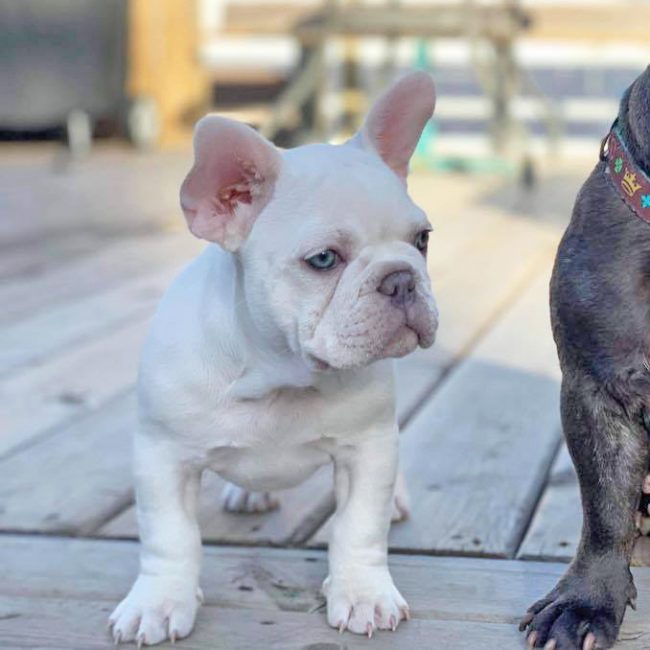 Astro took us a long time to find, which we expected because we are not willing to settle for just any Frenchie. We expect the next year to be incredibly exciting for us and our followers. We plan to adopt one more dam to complete our Frenchie family.  Our best estimate for 2021 is that we will have 2 litters available, 2022 we hope to have 3.
We are also exploring and expect to introduce the "Fluffy" gene into our program over the next year and provide another type of ethical, world-class Frenchies.
Thanks again to everyone for their inquiries and support. We hope you are as excited as we are for the years ahead!
Justin & Staci 🙂