After a long search, we finally found the perfect Frenchies to join the BluFrenchibles family. We traveled over 2000 miles to meet our new furry friends and it was an incredible experience. It was so exciting to see them in person and we couldn't wait to bring them home with us and share how amazing they are. It was definitely worth the effort of searching for months and traveling all that way!
We arrived in Calgary from Toronto a few days prior to picking them up. During our stay, we had an amazing experience exploring the city and encountering many friendly individuals. Whenever we saw someone walking down the street with a French bulldog, it always brought a smile to our faces. It was evident that French bulldogs are a beloved breed throughout Canada, as we encountered numerous adult Frenchies at the airport and throughout the city.
The Breeders, New Horizon Frenchies & C'est la vie Frenchies worked together to produce these amazing pups. Aries and Nova are not from the same litter, but both come from incredible lines and health-tested, CKC-registered parents. What really drew us to these particular Frenchies was the combination of genetic testing, structure, size, and open nares with a slight muzzle. We want to avoid flat-faced Frenchies more likely to develop breathing issues.
Aries has been brought into our program to give us more options for in-house breedings and for our stud service. Aries is a Cystinuria (C3) clear stud, which makes him an exceptional choice as a sire for additional pups that may be left intact for breeding.
French Bulldogs with copies of this gene can be bred, but anytime there is a possibility of a male receiving two copies of C3, the Frenchie needs to be neutered to prevent an increased risk of bladder stones.
Aries is a Lilac and Tan French Bulldog that Carrie's a copy of Cream. He has also tested with fewer copies of genetic markers associated with IVDD, which are found in the majority of French Bulldogs. This was a recent discovery and we will be doing further testing and providing more information in the future. We believe we've found the perfect match for our girl, Harper.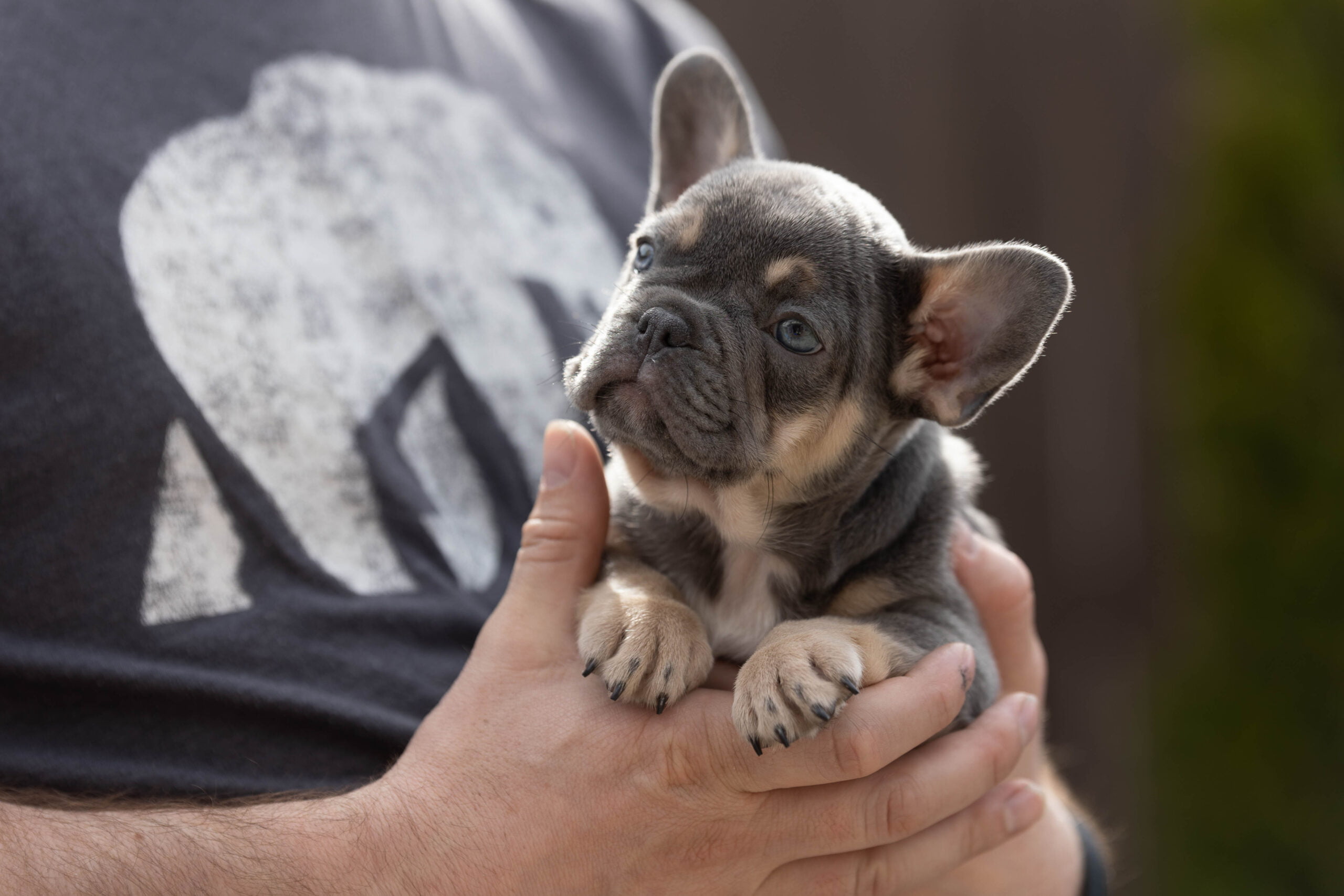 Nova is a gorgeous Lilac Frenchie. She comes from exceptional lines and we believe will produce beautiful and healthy litters.
When we picked them up, we stopped off at a local Petsmart to get some last-minute items for travel. They were both clearly nervous at first, but quickly settled and turned into enormous sucks. They loved every second of cuddles we could provide.
It became apparent to us almost immediately that they had been expertly socialized, which was very important to us. They were open to affection from us and anyone we encountered. Everywhere we went, our French bulldog puppies were quite the hit and generated a lot of attention!
We returned to our hotel for the evening, which was an hour and a half away. We needed to rest for our early flight back home. We had time to play with them for an hour (which wasn't nearly enough time), but we had a blast together. Nova and Aries loved being around each other and being held by us.
They slept together for the night and had a peaceful rest. The morning came early, as 5 am rolled around, so we set out before dawn and were ready to begin our trip back home.
Nova and Aries were such good travelers! We had about a 45-minute wait through security and then a few hours of hanging around the airport.
On the plane, they're supposed to remain in the carrier during the flight. We may have let them come out to stretch their paws a few times. Nova was a bit uneasy during takeoff, but Aries doesn't seem to let anything bother him! He just goes with the flow!
Once we landed, we were excited to be on the road home. We are always a little relieved to leave behind the chaos of the airport, but I don't think it bothered these Frenchies much.
Once we arrived home, the kids were extremely excited to meet them. We don't think they even noticed we were gone for 3 days.
Capri and Khloe will take over as the lead hand in puppy socialization and test every limit and boundary they have!
Aries and Nova will both be placed in Guardian homes, where a loving family will care for them and make memories. We will visit them often and look forward to having them during breedings.
We are always looking for amazing families local to Bowmanville, Ontario that would like to provide a guardian home and help us produce happy and healthy Frenchies!