Aries is a one-of-a-kind C3 clear French Bulldog Stud that is Lilac with Tan points. Cystinuria 3 (C3) Clear French Bulldog Studs are the best choice for breedings where you intend to keep the male pups intact or for future French Bulldog breedings.
Aries is a CKC/AKC registered stud that comes from healthy lines, was born in Alberta, and is now located just outside of Toronto.
DNA Color Profile
Aries is a Lilac and Tan, Solid French Bulldog with no brindle.
At/At – 2 Copies of Tan Points
Ky/Ky – 2 Copies Solid (no brindle)
d/d – 2 copies of dilute (blue)
co/co – 2 copies of Cocoa
E/e – 1 copy of cream
DNA Health Profile
Aries, being a C3 clear Frenchie. Creates offspring without the worry of 2 copy C3 pups. It is acceptable to have French Bulldogs with 2 copies of C3, provided the males are neutered. Otherwise, they are at an increased risk of developing kidney stones that could require surgery and pain for the Frenchies.
Aries has also been cleared of one marker associated with IVDD which is present in nearly all French Bulldogs. We are doing further testing and will provide more information shortly. Aries is clear of DM, which according to our research is not linked to an increased risk in this breed, but some breeders value this assurance.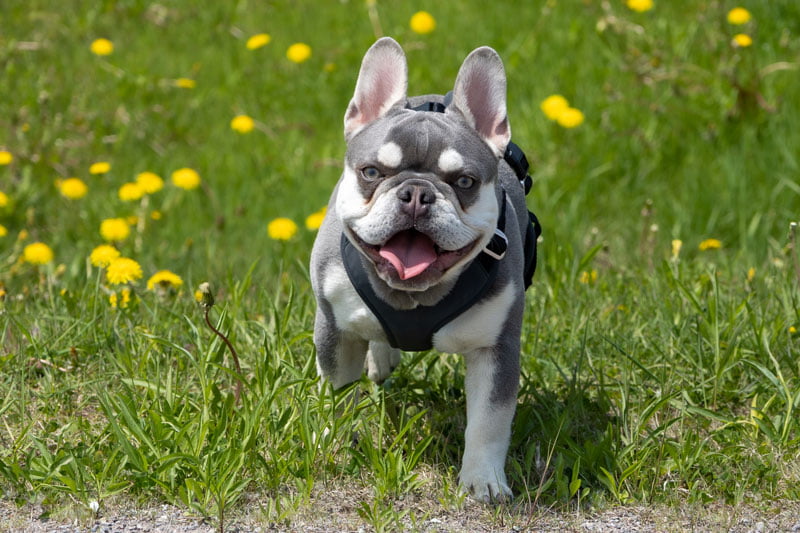 IVDD Clear French Bulldogs
Aries is not only C3 clear, but he is clear of CDPA and only has one copy of CDDY. Those are the two markers associated with French Bulldogs and is present in nearly all French Bulldogs. When Aries is paired with another IVDD single copy carrier, or clear, the offspring could be completely clear of these markers. This does not eliminate the possibility of IVDD injury, however the current research suggests the risk is greatly reduced. You can view the entire DNA Report for Aires and see how incredible he is for yourself.
Contact Us